Attorney Marc Lopez is pleased to announce that his law firm has released its very own IPhone App.
No other App will allow you to call a cab, estimate your Blood Alcohol Co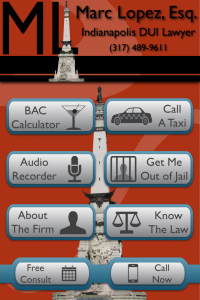 ntent (BAC) and record any conversation you have with a police officer. The best part? It is free!
In the App Store search for "Marc Lopez DUI."
Attorney Marc Lopez does not want anyone to be arrested for DUI / OVWI. But if you are he hopes you have the absolute best DUI / OVWI criminal defense attorney.
Attorney Marc Lopez represents individuals accused of drunk driving in the greater Indianapolis, Indiana area. Call Attorney Marc Lopez today at (317) 489-9611 or contact him through e-mail.