Here at Marc Lopez Law, we want to make sure that you make the best decision when choosing an attorney for your legal matters. We want anyone that contacts us to get as much information and the best advice possible, whether they hire us to represent them or not. Below you will find written testimonials from clients that want to share their experience. In many cases, our clients tell us the reviews they read about our firm played a very crucial part when deciding which attorney to hire. If you've been charged with a DUI, take a moment to hear from fellow Hoosiers that have been in your shoes and chose Marc Lopez Law to fight their case for them.
---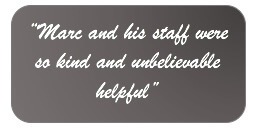 "The [Marc] Lopez Law Firm is absolutely incredible! When I got my DUI, Marc and his staff were so kind and unbelievable helpful. They were constantly putting my mind at ease and working very hard on my case. Getting in trouble for the first and ONLY time put my world in a tailspin and Marc helped ease the blow. I did not go to jail nor had any community service and he got the very demeaning Interlock system taken out of my car. I feel so blessed to have been able to work with such a wonderful set of people. I will always recommend [Marc] Lopez Law! I love them! You will be in GREAT hands with Marc!"
– A Marc Lopez Client, June 24, 2016
"[…] I hit the bullseye with this choice. He's very professional and takes his job very seriously by doing the best he can to help you with your case. He was always there for me throughout the ordeal. Very knowledgeable, considerate and caring individual…If I ever need a lawyer again, I know who I'm calling. Thanks again, Marc!"
-Anthony, June 17, 2016
"I 100% wholeheartedly recommend Marc Lopez. I am a practicing physician and was charged with a DUI. I have never been in this situation before and was completely overwhelmed and devastated…Marc worked tirelessly on my case. He even went to a weekend long toxicology seminar to better prepare for the trial. His dedication, perseverance and attention to detail showed. Half way through the trial, Marc was able to dismiss/exclude all of the evidence and the judge found me not guilty! Marc is likable, unassuming and can relate will to others."
– A Marc Lopez Client, December 2, 2015
"As a graduate student hoping to work at a university someday, having a criminal record would put a serious damper on my career. I called Marc the day after I was arrested for a DUI, and he answered (on a Saturday) and gave me a consultation over the phone and committed to appearing at my initial court appearance which was just a few days later…He kept me informed and even advocated for court appearances to work with my schedule as I am busy with school and lived out of state. Eventually, with no breathalyzer and little evidence to convict me, I was able to get all charged dismissed, which will save my career. I would recommend Marc to anyone in a similar situation. Marc is personable, skilled at explaining legal jargon, will versed on DUI trials, will give his honest opinion of every situation, and will do his absolute best to secure the best possible outcome."
-A Marc Lopez Client, April 25, 2015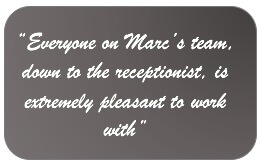 "[…] Everyone on Marc's team, down to the receptionist, is extremely pleasant to work with. He was recommended to me by a friend, and I would absolutely recommend him to anyone who is facing DUI charges."
-A Marc Lopez Client, September 25, 2014
"Marc is easy to contact and always readily available to answer questions. He met with me patiently again and again until I understood and felt comfortable with every aspect of my case. I found Marc to be extremely knowable and proactive in dealing with DUI laws and other aspects of a DUI/OVWI case. When you decide to have Marc Lopez represent you; I feel confident that the Legendary Service I received will continue for you."
-Timothy, August 19, 2013
"[…]I had talked to 3 other lawyers but when I met Marc I was sold within 5 minutes of being in his office. He was sincere and helpful right from the start. He reviewed my case the next day and called me back with a plan of action. He went over what I was up against and what we were going to do about it, which was a great relief for me at the time…I would have Marc represent me again in the future. I have no question about it. I am completely satisfied with Marc and his services."
-Ryan, October 21, 2011
Interested in reading more reviews on Marc Lopez? Visit his Avvo Profile.