An arrest for DUI / OVWI / DWI can have serious consequences, including the loss of driving privileges, mandatory jail time and a negative impact on professional licenses.
Because drunk driving charges are so serious, an experienced DUI / OVWI defense attorney is absolutely essential when it comes to navigating a DUI / OVWI case.
Most defense attorneys have no idea how to defend a person charged with DUI / OVWI.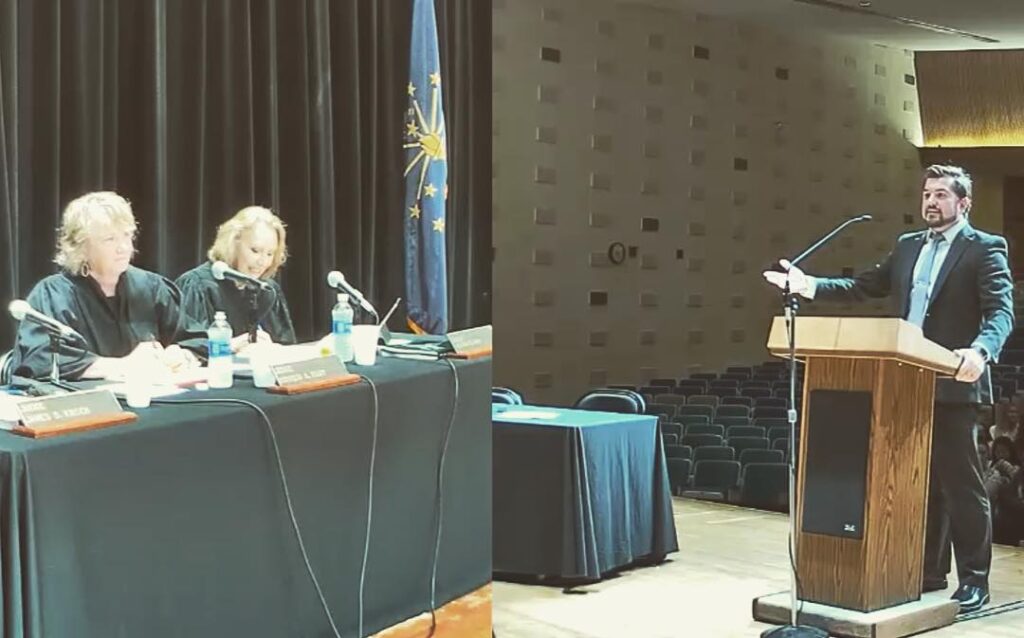 Never mind going to trial (which is something most attorneys would never dream of doing with a DUI / OVWI case); most who advertise themselves as "DUI attorneys" don't know the basics of DUI / OVWI defense. They don't know how to get your license back immediately so that you can get to work and keep your job. They don't know how to look for subtle but fatal errors that can lead to the breath or blood results being excluded from evidence. In many cases, they don't perform an independent investigation of the chemical test results and simply take the State's claims at face value. They probably couldn't even name three of the standardized field sobriety tests, and they almost certainly aren't familiar with the statutory minimums for jail time or license suspensions.
In short, most lawyers who market themselves as "DUI attorneys" have no idea how to actually fight DUI / OVWI charges. Most lawyers simply plead their clients guilty and offer defense in name only.
Here's the problem you face: How do you find a competent attorney who can help you minimize the negative effects of a DUI / OVWI arrest and get the best possible outcome?
This is a serious problem.
Because of the shame associated with drunk driving charges, most people don't reach out to family or friends for advice when trying to select a DUI / OVWI defense attorney. Even if you do reach out, the advice you get will only be as good as the experience of the person you asked. Odds are good that your opinionated friend couldn't tell a good "DUI attorney" from a vending machine.
If you're doing your own research, you're probably going to hop on the internet.
Once you tell the search bar what you're after, you'll almost certainly find yourself entangled in a web of digital marketing. How can you be expected to separate the attorneys of integrity from the fast-talking opportunists? Part of the problem is that law school doesn't teach anyone how to run a business. Most lawyers are ill-equipped to direct the administrative side of the operation, so they hire outside firms and consultants to handle things like advertising, client-outreach, and website maintenance.
On the one hand, this seems like a no-brainer. You don't expect an electrician to do his own advertising, do you? On the other hand, though, this creates a real disconnect between what's being bought and what's being sold. If a marketing firm is hired by a law firm, the marketing firm's goal is to attract as many clients as possible—not to emphasize honesty, workability, or client satisfaction. The professional marketers may have some tricks up their sleeves, but they don't really know anything about what they're selling you. Likewise, the advertisement that caught your eye may be attention-grabbing, but that doesn't mean it's telling you anything useful about legal services. There are lots of well-made ads for terrible attorneys.
Believe it or not, you're lucky to be reading these words because it means you've found your way to an experienced and reputable DUI / OVWI defense attorney—Marc Lopez.
Attorney Marc Lopez used to work as a deputy prosecutor of DUI / OVWI cases, so he knows how the State thinks and how it approaches these kinds of charges. This translates to inside knowledge for his DUI / OVWI clients.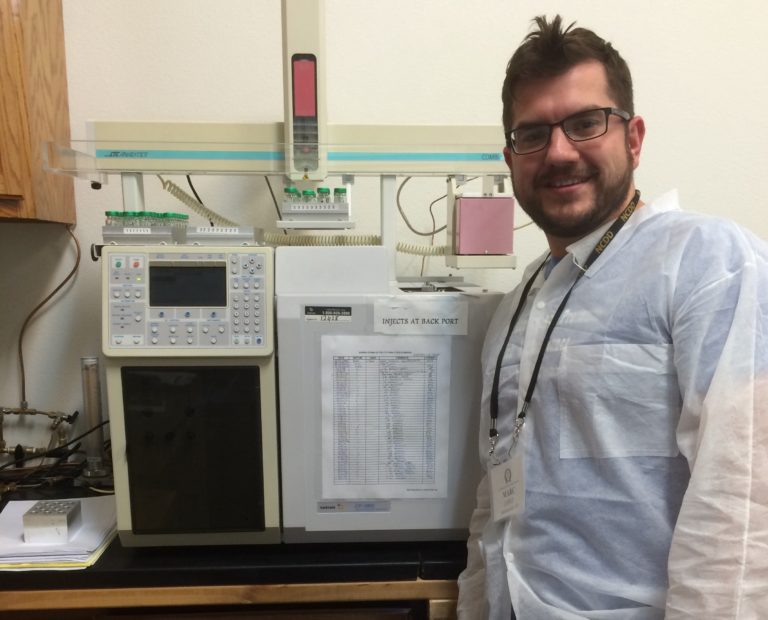 Attorney Marc Lopez has been recognized for his professional skill, and he frequently instructs other attorneys on how to defend DUI / OVWI cases. Only the best of the best are invited to teach other attorneys.
Attorney Marc Lopez has made DUI / OVWI defense the foundation of his legal practice. This means he deals with DUI / OVWI law all day, every day.
Attorney Marc Lopez has spent hundreds of hours learning about the science of blood and breath tests. This experience allows him to spot technical deficiencies in the State's evidence that his clients can turn to their advantage.
Attorney Marc Lopez has made it his job to know all the tips and tricks to keep his clients driving legally. If there's a way to keep his clients behind the wheel, Attorney Marc will show them how it works.
Why Attorney Marc Lopez?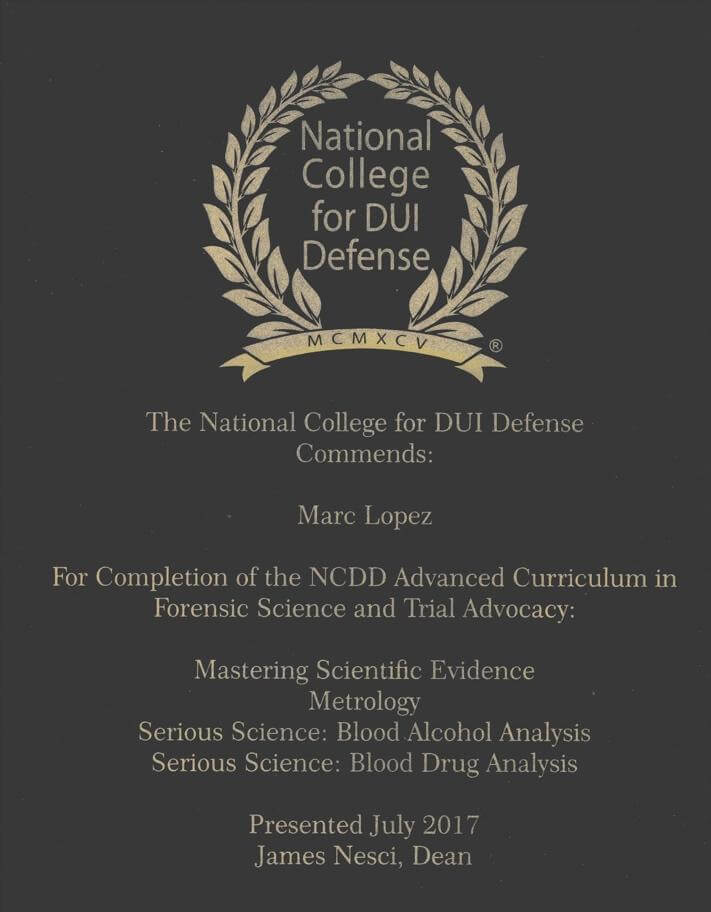 Attorney Marc Lopez started his career fighting for car accident victims. He enjoyed the work but quickly learned that his talents were in the courtroom, not sitting behind a desk, negotiating settlements over the phone. After two years, he walked away from his well-paying job with an esteemed Indianapolis law firm and started at the Marion County Prosecutor's Office. He went from having a corner office with a view of downtown to sharing a cramped, windowless space with another Deputy Prosecutor in what he's still convinced was the old copier room. His wife and friends all called him crazy for trading in his prestigious position for a job with the State, but he was undeterred. Who needs a big office when all the action is in the courtroom?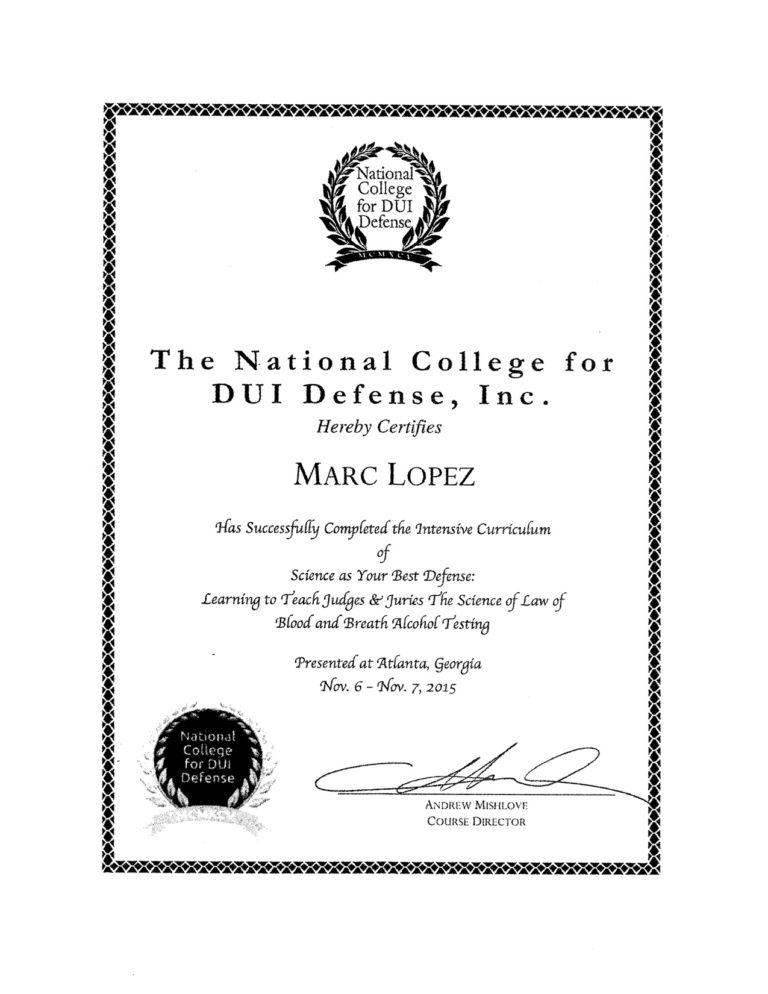 After starting at the absolute bottom of the Prosecutor's Office, Attorney Marc Lopez worked his way up to Marion County's highly-trained DUI / OVWI Unit. Along the way, he prosecuted thousands of criminal cases and gained countless hours of trial experience. He learned the ins and outs of the courtroom process, and for a time, he was happy to feel like he was making a difference in the community. Eventually, though, he started to feel like a bully.
As a deputy prosecutor, Attorney Marc Lopez was often able to provide non-DUI / OVWI defendants with alternatives, some of which allowed for the case to be resolved without a life-altering conviction. When it came to DUI / OVWI charges, however, he had no such discretion. The Prosecutor's Office had a straightforward approach to DUI / OVWI cases: It's better to go to trial and lose than it is to offer the defendant a non-DUI / OVWI plea.
Attorney Marc Lopez hated the thought of regular, hard-working people being saddled with a conviction because of a single mistake. This inflexible approach to DUI / OVWI charges started to make him feel like he was professionally obligated to kick people when they were down.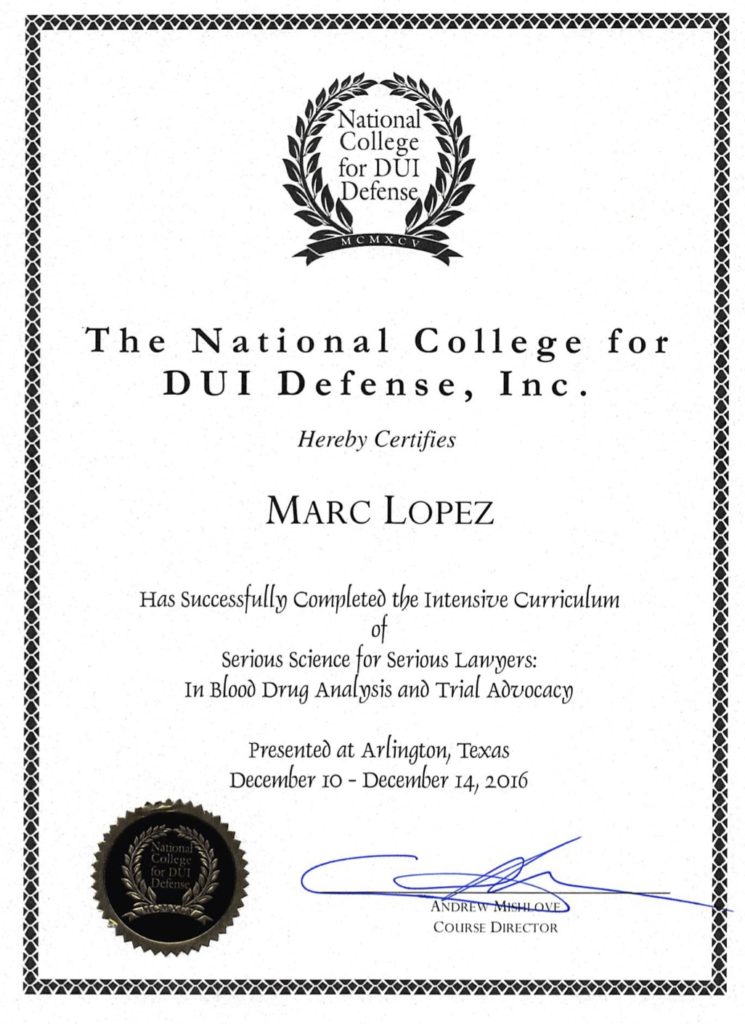 During his time as a prosecutor, Attorney Marc Lopez learned that only a handful of attorneys in the Indianapolis area actually took DUI / OVWI cases to trial. When he realized that only one of them, the now-retired Attorney Jess Paul, actually understood the science behind blood and breath tests well enough to mount a credible defense, his feelings crystallized into a plan of action. He left the Prosecutor's Office and started his own law firm. He made it his goal to help the little guy fight back against the State of Indiana, and he promised himself that he'd never stop trying to be a better attorney today than he was yesterday.
Attorney Marc Lopez is happy to report that he's made good on his promise so far. In 2010, he completed a week-long Trial Practice course on DUI / OVWI defense led by nationally-renowned DUI / OVWI Attorney Pat Arata and Attorney Mike McDaniel. In 2011, he spent a month at Gerry Spence's Trial Lawyer's College in the mountains of Wyoming, where he learned valuable trial practice skills and insight into how to meaningfully connect with juries.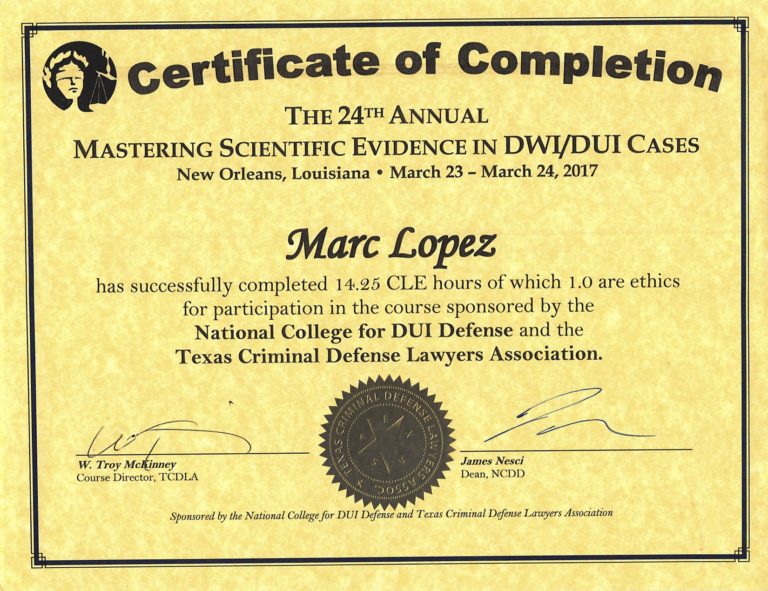 Trial practice is still his first love, but Attorney Marc Lopez continues to invest a significant amount of time into learning the science behind alcohol testing. Through the National College for DUI Defense (NCDD), he spent a week in Colorado learning the science behind blood alcohol testing. A separate week was spent in Texas with hands-on learning in the science of blood drug testing. He spent another three days in Georgia learning about metrology, which is a fancy way of referring to the study of lab tests to determine the accuracy of their measurements. He also completed the NCDD's 2018 Mastering Scientific Evidence seminar held in Louisiana. The NCDD has also recognized Attorney Lopez for completing its Advanced Curriculum in Forensic Science and Trial Advocacy.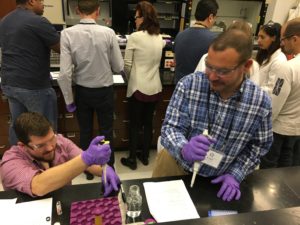 Armed with experience and advanced training, Attorney Marc Lopez uses his knowledge of the laws and science of certified chemical tests to defend those accused of DUI / OVWI. He's helped thousands of people in his career, and that number grows by the day. He's won cases that were professionally assessed as "hopeless," and he's lost cases where the guilty verdict still ended up being preferable to the most generous of the State's plea offers. In order to keep his promise to himself, he's basically been forced to learn everything there is to know about Indiana driver's license law, including how to minimize long-term damage and the most direct path to getting clients back on the road.
Want proof? Here's the proof.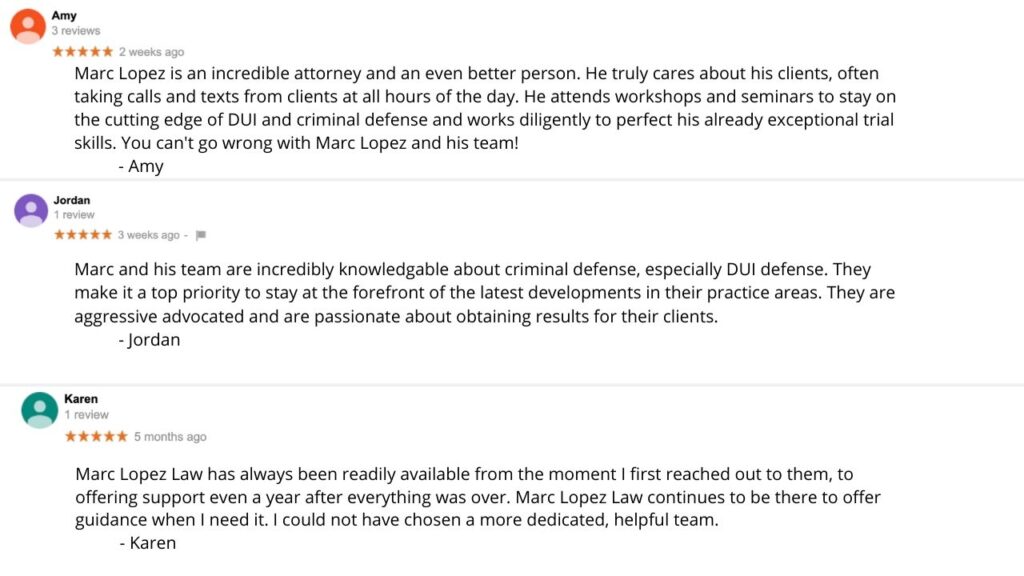 When you hire the Marc Lopez Law Firm, you get the peace of mind that comes with knowing an experienced, knowledgeable and tenacious DUI attorney is on your side. The Marc Lopez Law Firm will do everything possible to get you the best outcome for your case.
There's no additional charge for helping with your driver's license, because Attorney Marc Lopez understands how important driving is to his clients. Many firms will actively discourage clients from pursuing specialized driving privileges while their criminal case is pending. Other attorneys charge additional fees to straighten out a driver's license suspension. When you hire the Marc Lopez Law Firm, license work is included in the fee.
You'll also have a dedicated paralegal assigned to your case. This is a great resource for minor questions and clarifications. Having an assigned paralegal means you never need to feel lost or out of the loop. It's part of the paralegal's job is to keep you updated and informed.
All calls to the Marc Lopez Law Firm are answered in real-time by actual human beings. If you call at 2:00 a.m. on a Saturday, you probably won't reach Attorney Marc Lopez directly, but you can rest assured that your message will be sent to him via text and email.
Once you've hired the Marc Lopez Law Firm, you'll immediately be given a list of things you can start doing RIGHT NOW to help with your DUI / OVWI case. Some things on this list will be obvious, and others won't be, but all of them are included for a specific reason.
If you or a loved one has been arrested for DUI / OVWI, call Attorney Marc Lopez at 317-632-3642.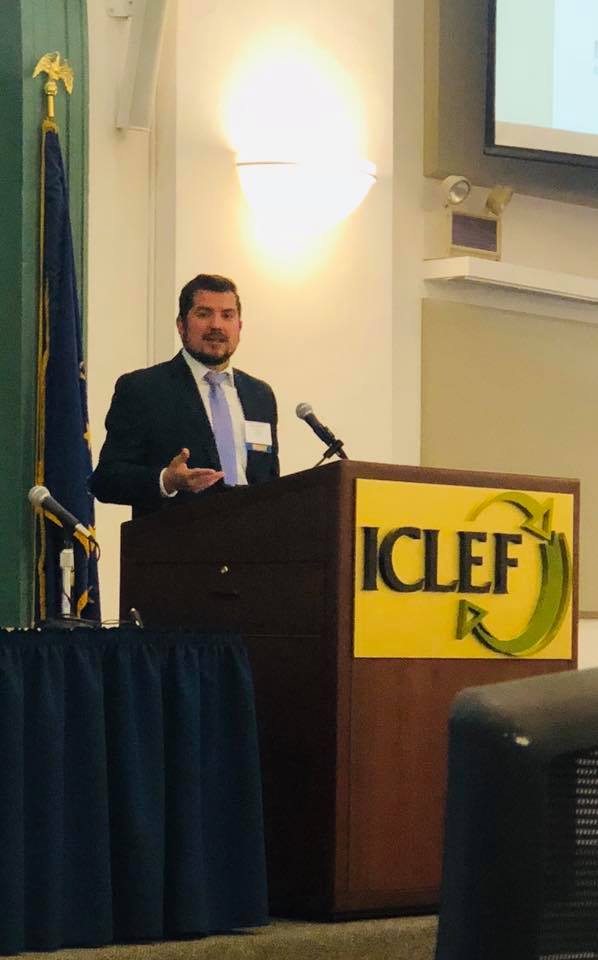 Attorney Marc Lopez is a former DUI / OVWI prosecutor, so he knows all the State's tricks.
Attorney Marc Lopez founded his law firm on DUI / OVWI defense, and he does this kind of work every day.
Attorney Marc Lopez knows the science behind DUI / OVWI charges.
Attorney Marc Lopez teaches other attorneys how to defend DUI / OVWI cases.
Attorney Marc Lopez understands how important driving is to his clients, and he'll do everything he can to get you driving again as soon as possible.
Criminal cases are full of procedural deadlines, and timing is crucial. Don't wait until your sentencing hearing to start asking serious questions about your case and your options. Call the Marc Lopez Law Firm today at 317-632-3642 for a free consultation.